MEXT Commissioned Project
EStudent Guidance for Anti-bullying Measures Propulsion Project ~How Neuroscience, Psychiatry, Psychology and etc. Should Connect to School Education~
Since 2015 ~
Also known as: gKodomo Minna Projecth

Aiming to Solve Truant, bullying, and other problems with children in terms of Psychological Development
Issues in Educations Are Our Future.
This Is a Project Everyone Participates in to Support Children and Teachers.


To gKeep Watchingh Psychological Development of Children

How could issues with children such as truant, bullying, verbal/Physical abuse, delinquency and etc. occur?
We constantly gather information regarding not only the number of issues in the educational environment but also their backgrounds, factors, and relations to psychological development of children.
We, pedagogues and researchers, regularly hold conferences to discuss the information.

To gKnowh Psychological Development of Children

With what kind of structures could issues with children be occurred?
What kinds of children have higher risk factors and what supports could be effective?
It is an urgent objective for the educational field to figure out how to respond to children who explosively express their emotions and find out the ones who have internalized stresses and help them. Practical knowledge accumulated in the educational field is gathered, and the studies to reveal the structures as the foundation of childrenfs issues are propelled.
This project aims to extend better practical education by opening the data gathered to the researchers taking personal information and ethical aspects into account to facilitate the studies regarding child emotional development and verify the effects of variety of programs in the educational field.


To gSupporth Psychological Development of Children

How could we specifically educate and support children?
What are the best ways to take advantage of the good abilities of current schools and teachers?
We strike to develop support programs that have scientific evidence, teaching materials, and training programs for teachers by creating specific and productive methods using previous fundamental studies in educational fields.
By constantly tracing emotional behavior of each child, we would establish structures that could preventively work for behavioral problems.
Along with that, we hope to make easy access to information that has scientific evidence and provide some training for teachers and other educators.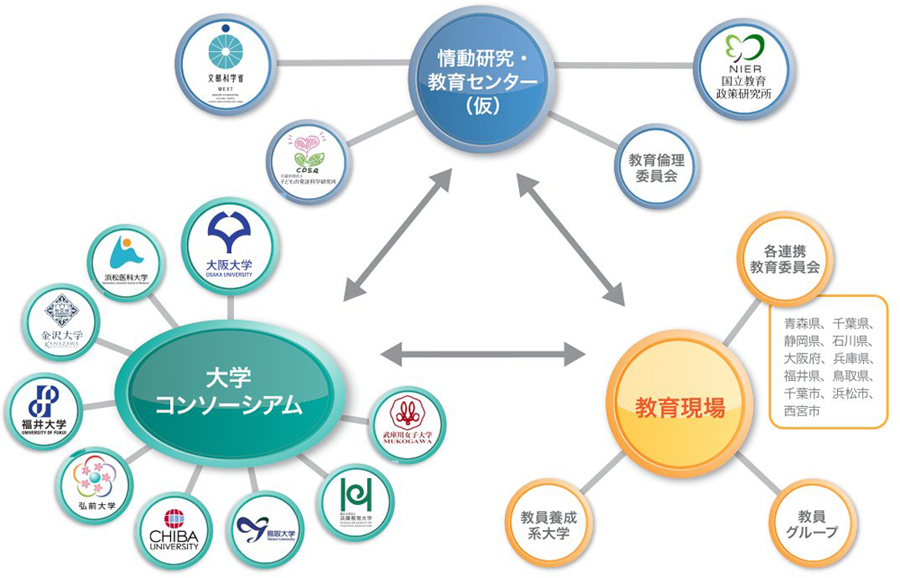 ƒObjective"
This project is composed of 9 universities (Osaka University, as a central university, Hirosaki University, Chiba University, Hamamatsu University School of Medicine, Kanazawa University, Fukui University, Tottori University, Hyogo University of Teacher Education and Mukogawa Womenfs University) and 11 boards of cooperative education from 8 prefectures (Aomori, Chiba, Shizuoka, Ishikawa, Osaka, Hyogo, Fukui, and Tottori) and 3 cities (Chiba, Hamamatsu, and Nishinomiya). The study primarily focuses on various approaches to a developmental support of children focused on practical activities.
The Institute for Educational Research of Mukogawa Womenfs University and Center for the Study of Child Development have carried on a follow-up study with one elementary school and one junior high school connected to the elementary school as a collaborative project with the board of education in Nishinomiya. Our objective of Kodomo Minna Project is to create an indicator and to develop measurement methods to constantly observe the mental development of children by making the best use of our knowledge and experience of a follow-up study we have obtained since JST.
We also move forward with extension courses and symposiums about the best ways in which the growth, learning and support of children should aim to be.

ƒMethod"
In this study, we trace the relationship among children in classrooms along with signs of resilience that each child uses as indicators to disclose how the problems of children occur. The research is explained to the board of education and school officials and put forward by their agreements after it passes the ethical review. Along with that, all the data is handled and stored at the institute and all personal information is double coded for protection.

ƒCooperation of Each University"
Although each university holds proficiency in both biological and social factors, the universities involved seek to investigate developmental process of children by sharing collected data and developmental methods. After the reliability and validity of this knowledge are confirmed, it is intended to be provided for teachers and supporters.